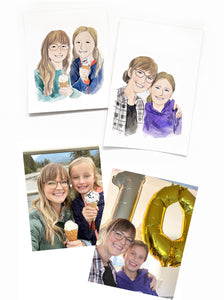 Mother's Day mini portrait painting
Celebrate mom with a mini painting!
These mini portrait paintings are 4"x6" and will be a replica of the photo of your choice. Backgrounds will not be included, and proof of the sketch before painting will also not be included (as I normally do).

The figures will be from the waist up (if the photo is full- body).
They will include Mother's Day greeting card!
Shipping is available but cannot be fully guaranteed before Mother's Day, although I will try my very best to complete in a timely manner.
Please email your photo to poppyandlace@hotmail.com and add "Mother's Day mini - _____(your name)" to the subject line.